My husband, Dan, is the inventor of HonuPicks, TheMusicClamp, and UkeLoop. Enjoying the ukulele, but experiencing discomfort due to neuropathy and arthritis, he created these innovations to make the ukulele experience more comfortable, especially for those with disabilities. His innovations received great response from ukulele enthusiasts, so I decided to make a business out of them!
Admiring the Honu, the green sea turtle of Hawaii (Chelonia mydas), Dan was inspired by it's shape and it's smooth glide through the waters to create the HonuPicks! Not only are they ergonomic and reduces stress on the fingers allowing those with neuropathy or arthritis to play comfortably, they glide smoothly across the strings like the Honu through the seas!
Did you know the Honu was commonly called the green sea turtle because of the color of it's fat from eating various sea grasses in shallow lagoons? Their carapace, or shell, is usually light colored but some can be black. They are also known as the black sea turtle and Pacific green turtle.
Here is Dan's 5 year old grandson's creative vision ... even Mago-chan likes the Honu!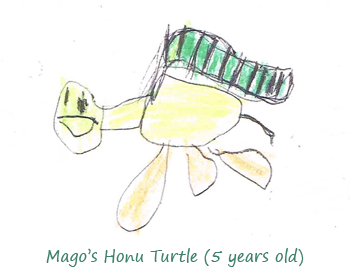 Thanks for checking us out!
Astrid